GUIDE TO EFFECTIVE CAPA MANAGEMENT
(Already Enrolled? Login)
ABOUT THE COURSE
1000+ happy learners
Guide to Effective CAPA Management is a specialized course designed to enhance your understanding of Corrective and Preventive Action (CAPA) practices within the pharmaceutical industry. Discover techniques for identifying problems, uncovering their root causes, and implementing effective solutions to ensure product quality and compliance. Equip yourself with the skills to excel in managing challenges and driving ongoing improvement in pharmaceutical operations.


What you will learn
Root Cause Analysis
Discover how to identify and address underlying causes of issues.
Effective Solutions
Learn techniques to implement corrective and preventive actions.
Risk Management
Understand how to prioritize actions based on potential impact.
ON DEMAND COURSE
Set deadlines according to your schedule.

CERTIFICATE
Earn a Shareable Certificate upon completion.

45 Min.
8 videos to know everything about the topic.

ENGLISH
Available in English only.
(Already Enrolled? Login)
(Already Enrolled? Login)
A thriving community
1285+ students and counting
This CAPA course transformed my approach to problem-solving. The practical insights and real-world examples were invaluable. I feel more confident in managing challenges effectively now.
Rajesh Patel
As a pharmaceutical professional, this course was a game-changer. I learned how to tackle issues from the root and prevent them. Highly recommended for anyone in the industry.
Aisha Khan
The CAPA course exceeded my expectations. It provided a structured approach to addressing quality issues. The emphasis on continuous improvement resonated with me
Emily Johnson
Even though I'm not from the pharmaceutical field, this course offered practical problem-solving techniques applicable in any industry. It's a fantastic investment in skill development.
Ananya Desai
I always struggled with prioritizing actions. This course clarified the risk-based approach, making my CAPA strategies more effective. An essential course for professionals.
Vikram Singh
CAPA can be overwhelming, but this course made it accessible. The step-by-step guidance and relatable examples simplified the process. A must for anyone in quality control.
KARTIK BAJAJ
Start Learning Today
THE COMPLETE GUIDE TO CAPA MANAGEMENT
Learn on your own schedule

Course videos and notes

Practical frameworks and ideas

Available in English with subtitles

Free lifetime upgrade

Unlimited Lifetime access to the course

Shareable Certificate upon completion
become a member of pharmaguideline community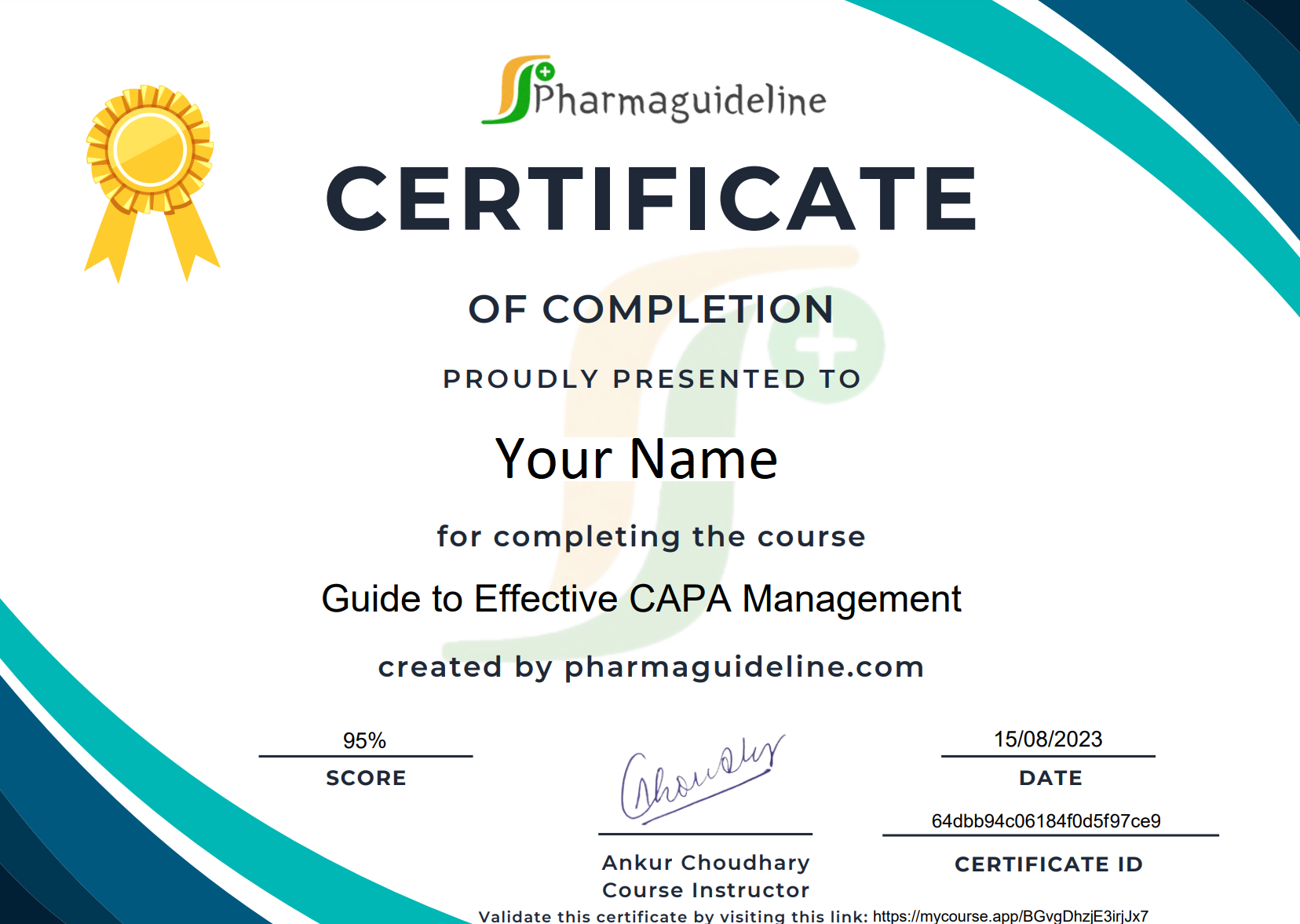 Share your certificate on LinkedIn, Twitter, Instagram and tag Pharmaguideline. You can also share it in the Certifications section of your LinkedIn profile, on printed resumes, CVs, or other documents.
Frequently asked questions
How long will it take to get access of the course?
Your credentials to access the course will be delivered to your inbox within 5-10 minutes of your purchase. Please check your promotions/updates tab and spam folder as well. The email will come from
[email protected]
.
Is the course in Hindi or in English?
This course is available in English only.
Do the course come with any live interaction?
No. It is a pre-recorded course that you can use for lifetime after purchase.
Will I get a certificate of completion?
Is there a group that I will join, after purchasing the course?
Yes. You will join a community of like-minded enthusiasts on Pharmaguidelne Master Class wherein you can share your doubts and connect with more people.
Can I cancel my course purchase if I don't like it? Will I get a refund?
Yes! You can cancel your course within 7 days of purchase if you don't like it. I don't want your money if you are not happy with the course. You can email me at
[email protected]
& I'll cancel and refund your money within hours. No awkward questions asked :)
Created with