ABOUT THE COURSE

Course for you to help you navigate through all steps of implementing good manufacturing practice in pharmaceutical industry. Explained by someone who has 18+ years experience in this field. It is an 3 hours content with 15 chapters GMP guide from A to Z.
WhaT you will learn
Industry Regulations
Course teaches participants how to comply with industry regulations and guidelines, ensuring their manufacturing processes meet required standards.
Quality Management

It emphasizes quality management principles to maintain consistent and high-quality products
GMP PRACTICE
Participants will learn essential GMP practices, such as cleanliness, personnel hygiene, equipment calibration, and documentation, to ensure product safety and efficacy.
ON DEMAND COURSE
Set deadlines according to your schedule.


CERTIFICATE

Earn a Shareable Certificate upon completion.

3 HOURS
15 videos to know everything about the topic.

ENGLISH
Available in English only.

(Already Enrolled? Login)
Course Lessons
(Already Enrolled? Login)
1,345+ students and counting
The GMP course has been a game-changer for me. It complements my attention to detail perfectly, allowing me to ensure every aspect of GMP regulations is implemented flawlessly. Thanks to the course, I now feel confident in maintaining compliance and product quality.


SACHIN YADAV
I'm thrilled with how the GMP course has enhanced my problem-solving skills. It has given me the tools to identify potential risks and find effective solutions, making our manufacturing processes more efficient and safer.


PRABHAT SINGH
As a communicator, the GMP course has been a true asset. It has equipped me to convey complex GMP concepts to my team members with ease, creating a shared understanding and commitment to maintaining high standards.


RAHUL TYAGI
The GMP course has amplified my leadership qualities. I now take charge in promoting a GMP-focused culture within our organization, encouraging everyone to take ownership of their roles in ensuring product safety and compliance.
Robert
I'm impressed by how the GMP course keeps me updated with the latest regulatory changes. My adaptability has never been more valuable, allowing me to implement updates swiftly and seamlessly.


SUMAN rastogi
The GMP course has honed my analytical mindset. I now confidently analyze manufacturing data, optimizing our GMP practices and driving continuous improvement throughout our processes.


Daniel
Start Learning Today
THE COMPLETE GUIDE TO GMP
Learn on your own schedule

Course videos and notes

Practical frameworks and ideas

Available in English with subtitles

Free lifetime upgrade

Unlimited Lifetime access to the course

Shareable Certificate upon completion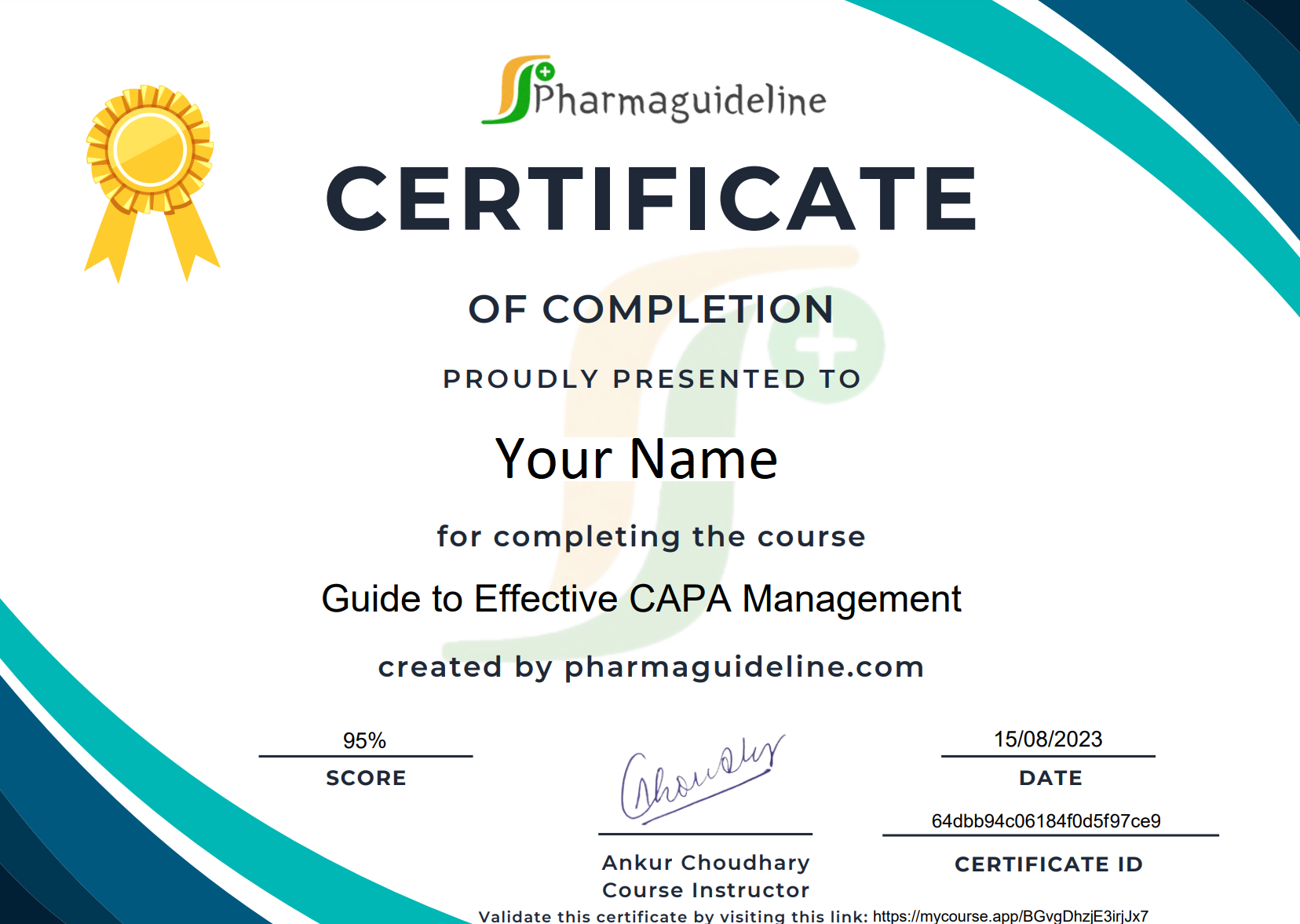 Share your certificate on LinkedIn, Twitter, Instagram and tag Pharmaguideline. You can also share it in the Certifications section of your LinkedIn profile, on printed resumes, CVs, or other documents.
Frequently asked questions
How long will it take to get access of the course?
Your credentials to access the course will be delivered to your inbox within 5-10 minutes of your purchase. Please check your promotions/updates tab and spam folder as well. The email will come from
[email protected]
.
Is the course in Hindi or in English?
This course is available in English only.
Do the course come with any live interaction?
No. It is a pre-recorded course that you can use for lifetime after purchase.
Will I get a certificate of completion?
Is there a group that I will join, after purchasing the course?
Yes. You will join a community of like-minded enthusiasts on
Pharmaguidelne Master Class
wherein you can share your doubts and connect with more people.
Can I cancel my course purchase if I don't like it? Will I get a refund?
Yes! You can cancel your course within 7 days of purchase if you don't like it. I don't want your money if you are not happy with the course. You can email me at
[email protected]
& I'll cancel and refund your money within hours. No awkward questions asked :)
Created with